Meet Carrie Nafziger, Massage Therapist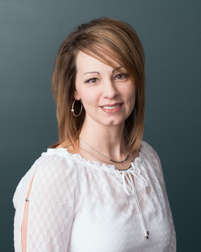 After high school, Carrie planned on becoming a medical assistant that involved giving shots and drawing blood. As part of her schooling, she was required to do an internship. She did one in a chiropractor's office. "I fell in love with chiropractic and never worked in a medical office after that." Carrie has worked in a chiropractic office since 1994.
Dr. Nafziger and Carrie opened their practice in 2006. As our practice grew, Carrie saw the need to provide massage as a complementary therapy to chiropractic.
A Passion for Serving Others
Carrie always has been highly passionate about serving people. "Becoming a massage therapist was a great fit for me and it allows me to enhance the care of the patients in our office."
Though she provides relaxation massages, Carrie's main objective is to help patients seeking pain relief.
Education and Training
To prepare for her career as an LMT, Carrie did a one-year program at the Healing Arts Institute in Toledo. The program included 750 hours of training. After receiving her license, she continued to take additional classes to learn neuromuscular therapy and myofascial release. To stay abreast of the latest in the field, Carrie does the required continuing education courses each year, typically advancing in the area of neuromuscular therapy.
She particularly enjoys providing the AromaTouch® Technique, which is an essential oil massage. Patients love the technique as it uses eight different oils. These are used to promote relaxation and reduce inflammation, plus provide immune and emotional support. The massage is also designed to bring the body back to homeostasis. The aroma touch technique helps promote a faster healing response and is very relaxing.
Outside the Practice
In her spare time, Carrie and Dr. Nafziger enjoy spending time with their three sons. She also serves as the Nafziger Family Chiropractic office manager.
Book a Session
Contact our Archbold practice today to schedule a massage session with Carrie!

---
Carrie Nafziger | (419) 445-1600