About Us
I have the utmost confidence in the quality of care I know I will receive each time I visit. Dr. Nafziger has significantly helped me over the years and I highly recommend this practice.
Natalie M.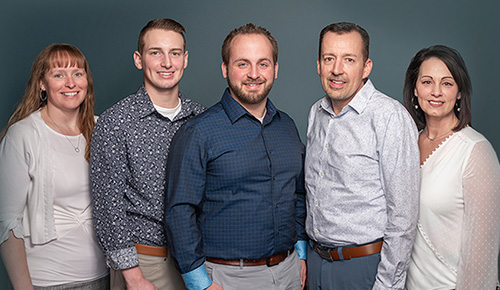 Nafziger Family Chiropractic has been delivering quality chiropractic care to the local community since 2006. Our chiropractic care center exists first to help our patients achieve their immediate health goals. Then we guide them on a journey toward wellness. Chiropractic focuses on restoring the integrity of your nervous system, so that you can be 100% you! We believe in the body's inborn ability to heal itself, and we know that's a new concept to many people.
Planting Roots in Archbold
Dr. Randy Nafziger grew up on a farm in Waldron, Michigan, about 30 minutes northwest of our town. After spending five years away from family in Iowa, he and his wife decided to move closer to home. It was important that their children be closer to their grandparents and cousins. "Archbold was an easy choice to raise our children because of its small-town atmosphere and close-knit community," said Dr. Randy.
Providing Hope and Healing
It is our goal to help people achieve optimal health—physically, emotionally, and spiritually. We are not a typical chiropractic office. Instead, we are a place that people can believe in. Here, people can have hope and feel comfortable sharing their healthcare needs and life decisions for themselves and their children.
We value and appreciate all of our patients. The excellence in our care is a reflection of our appreciation and gratitude to those who have put their faith in us.
MEET THE DOCTORS
Offering Many Health-Promoting Services
In addition to chiropractic care, we also offer acupuncture and massage therapy. With these natural modalities available under one roof, we can help you get out of pain and on the path to healing.
Dr. Randy's Ideal Patient
Dr. Randy was asked the question, "What type of patients seem to get the best results in your practice and why?" He stated, "The ideal patient is proactive in their own health. They show up for their appointments, but also follow my recommendations for helping get the fastest recovery possible. And of course, the ideal patient is inquisitive about learning more about chiropractic and how it can help their loved ones."
Dr. Randy would like to see every man, woman, and child in the community take these actions:
Be under regular chiropractic care (once or twice per month)
Take fewer prescription medications
Eat healthier (more fresh fruits and vegetables)
Have more meaningful relationships with their families
Living the Chiropractic Lifestyle
Chiropractic is a way of life for Dr. Randy and his family. Everyone in his family is adjusted weekly to keep their bodies healthy. We understand most people don't know that chiropractic is more than just neck and back pain. So we meet you where you are. We're here to help you feel better, but along the way, help you understand more about chiropractic and how it may help you and their family.
Book an Appointment
Sound interesting? Please contact our practice to make an appointment and let us get to know you and your family better.

About Nafziger Family Chiropractic | (419) 445-1600