Massage Therapy at Nafziger Family Chiropractic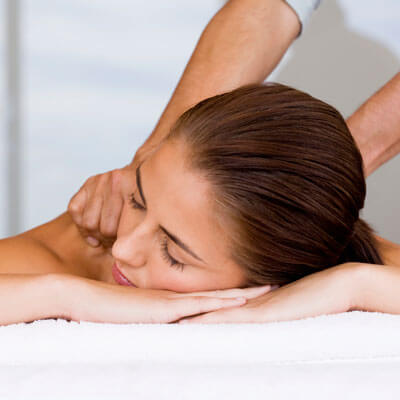 When many people think of massage, the first thing that comes to mind is a spa-like massage treatment. While massage is relaxing, it's highly therapeutic and yields many health benefits.
Carrie Nafziger, Massage Therapist, provides an array of techniques. In particular, she focuses on muscular or neuromuscular massage and myofascial therapy. Some patients come if for general relaxation, but others come in for pain relief. Carrie can target their pain complaint.
Conditions That Massage Can Address
Here are some of the many issues that massage therapy can help:
Anxiety and depression
Chronic muscle stiffness
Headaches
Rotator cuff problems
Sciatica
Shoulder and neck pain
Tendonitis
What to Expect
Carrie will take you into the massage room and then you would undress to your comfort level.
You are properly draped and covered at all times and she works on a specific area, whether it's for general relaxation or a problem area. Your massage would either be 30 or 60 minutes.
Before Carrie begins the massage, she will let each patient know how she can help them feel better and move more easily.
FAQ
How often should I come in for a massage?
The frequency depends on what the issue is. If you have an acute problem or a new problem, Carrie may want to see you once a week until you are feeling better.
If you come in with a specific problem, she's there to get you better and your body working better. Then it's up to you to determine whether you want to continue.
How do massage and chiropractic complement each other?
Getting a massage and a chiropractic adjustment on the same day allows the adjustment to be much more effective.
No, most insurance does not cover massage. In our office, we do not bill insurance for massage.
Contact Us Today
Schedule an appointment for massage therapy in Archbold. Contact Nafziger Family Chiropractic today!
CONTACT US »
---
Massage Therapy in Archbold, Fulton County, Bryan OH | (419) 445-1600