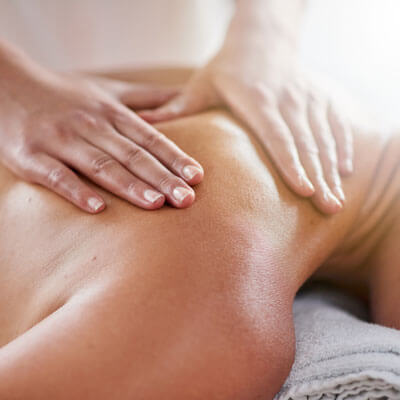 Massage Therapy in Archbold
When many people think of massage, the first thing that comes to mind is a spa-like massage treatment. While massage is relaxing, it's highly therapeutic and yields many health benefits. Massage has powerful healing potential, especially when combined with chiropractic care. At Nafziger Family Chiropractic, our team of licensed massage therapists offer a variety of massage techniques to augment and facilitate your healing.
How can Massage Therapy Help Sore Muscles?
Massage works by increasing blood flow to the muscles, which brings healing nutrients and removes toxins, so the muscles can heal. The increased blood flow can also reduce blood pressure, inflammation and stress.
Conditions That Massage Can Address
Here are some of the many issues that massage therapy can help:
Anxiety and depression
Chronic muscle stiffness
Headaches
Rotator cuff problems
Removal of metabolic waste
Sciatica
Shoulder and neck pain
Tendonitis
Pregnancy
Stress
Massage Services
Therapeutic massage incorporates a variety of advanced modalities that enhance the body's natural restorative functioning. Regular massage can enhance health, providing relaxation, release of muscle tightness, relief from anxiety and tensions, and balancing aspects of body/mind/spirit.
Swedish Massage is a manual therapy that emphasizes long strokes, kneading and friction motions to encourage proper circulation. The technique involves rubbing muscles together in the same direction as the flow of blood to the heart.
The AromaTouch Technique® is the application of essential oil to the back and feet. This technique combines the unique benefits of human touch with the power of essential oils to create an overall wellness experience. The essential oils used in the AromaTouch Technique were chosen for their individual and combined aromatic properties.
Prenatal massage is therapeutic bodywork that focuses on the special needs of the mother-to-be as her body goes through the dramatic changes of pregnancy. It enhances the function of muscles and joints, improves circulation and general body tone, and relieves mental and physical fatigue.
RAPID™ NueroFascial Reset
RAPID NueroFascial Reset, is a neurologically based, active, therapeutic technique that addresses the central nervous system's role in alleviating tension and restrictions within the body. Utilizing a biopsychosocial perspective, RAPID addresses the body's perception of threat and danger. By restoring the connection of the body to the muscular system, most painful conditions and range of motion restrictions disappear.
What to Expect
Upon arrival, your Massage Therapist will guide to the massage room where they will ask you a series of question to help tailor the massage session to your needs.
Before the therapist leaves the room, they will instruct you to undress to your comfort level, this is typically undressing to your underwear.
You are properly draped and covered at all times while the therapist works on a specific area, whether it's for general relaxation or a problem area. Your massage session will be either 30 or 60 minutes.
Before your therapist begins the massage, it will be clearly explained how your massage can help you feel better and move more easily.
FAQ
How often should I come in for a massage?
The frequency depends on what the issue is. If you have an acute problem or a new problem, your therapist may want to see you once a week until you are feeling better.
If you come in with a specific problem, our therapists are here to get you better and your body working better. Then it's up to you to determine whether you want to continue.
How do massage and chiropractic complement each other?
Getting a massage and a chiropractic adjustment on the same day allows the adjustment to be much more effective.
No, most insurance does not cover massage. In our office, we do not bill insurance for massage.
Contact Us Today
Schedule an appointment for massage therapy in Archbold. Contact Nafziger Family Chiropractic today!
CONTACT US

Massage Therapy Archbold, Fulton County, Bryan OH | (419) 445-1600