Meet Dr. Anthony Nogosek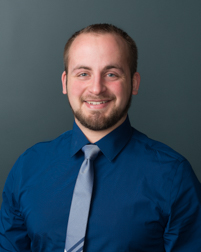 I took it upon myself to pursue a career that would allow me to not only care for others, but to bring relief from suffering."
Growing up in a small rural town in North Dakota, I always had a desire to serve others. My interest in the field of health care sparked very early on and I took it upon myself to pursue a career that would allow me to not only care for others, but to bring relief from suffering. My first exposure to chiropractic actually came from the testimony of a close relative, as I had never been adjusted during my childhood. My relative spoke of a chiropractor who focused on her body as a whole and helped answer some questions that many of the health specialists she had seen could not answer. From that day forward, I aspired to be a professional who was willing to listen to patients and provide a treatment that focuses on the well-being of the body as a whole.
Chiropractic Education
I received my undergraduate degree from Bethel College in Mishawaka, Indiana, where I met my beautiful wife, Jenna. She had suffered from health problems her whole life and struggled to find a treatment that gave her relief from her symptoms without serious side effects. My wife was determined that being dependent on medication for the rest of her life was not something she desired. She stopped taking all of her medications and aside from some underlying issues, many of her symptoms that were in fact side effects had gone away and her quality of life greatly improved. Fast forward through a couple major surgeries and some unexpected reactions to post-operative drugs, she now gets adjusted regularly and has learned to manage some of her persistent ailments naturally. Through all of this, she further inspired me to continue on my path toward chiropractic so that I could use conservative treatment as a way to care for patients.
I was fortunate enough to undergo a research experience and an anatomy internship while receiving my undergraduate degree. I went on to pursue my Doctor of Chiropractic degree from Palmer College of Chiropractic in Davenport, Iowa, where I graduated in February 2017.
EXPLORE OUR SERVICES
Chiropractic Care and Family
My wife and I have five children, Noah, Adelynn, Neely, Leo, and Finn. While life with young children has kept us busier than we could ever imagine, we are reminded everyday of what a blessing they truly are. Each of our children has been under chiropractic care starting the week of their birth. We have watched issues such as constipation, ear infections and fevers all resolve with chiropractic adjustments. With so much to worry about as a parent, we are extremely grateful that our children have all remained healthy, something I personally attribute to chiropractic care.
What I love most about chiropractic is that it allows the body to do the work. The human body is fascinating and I think we often underestimate what it is capable of doing. When the human body is nurtured, cared for and the nervous system is functioning at its full potential, true health and wellness can be achieved. It truly excites me to be a part of this process and after everything I have learned throughout my educational experience, I could not imagine treating patients in any other way. I am honored to have the opportunity to serve in the Archbold community and I look forward to helping to the best of my ability.
Give us a call today to find out what chiropractic can do for your family!

Dr. Anthony Nogosek | (419) 445-1600