Meet Randy Nafziger, D.C., CACCP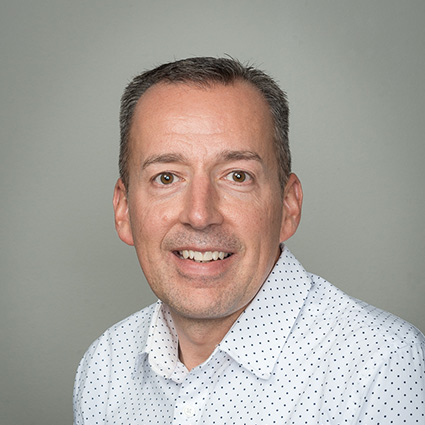 I had been under chiropractic care since childhood, but still didn't completely realize there was more to chiropractic than pain relief."
Chiropractic is a second career for me. Before I was a chiropractor in Archbold, I was an accountant for seven years. Through this time I was pencil-pushing, my wife, Carrie, was a chiropractic assistant. On occasion, I would travel with her and the office she worked with to seminars. Attending the seminars had begun my interest in chiropractic. I noticed how the people in this profession love serving people and make a difference in people's lives.
Chiropractors are passionate about their calling! This really sparked my interest in becoming a chiropractor. Don't get me wrong, I enjoyed accounting (and still do). However, there was more to life than sitting at a desk. I truly had a strong desire to touch people's lives. I realized I was looking for a purpose greater than myself. This led me to pursue an education in chiropractic and start Nafziger Family Chiropractic.
Chiropractic Education
I attended Palmer College of Chiropractic in Davenport, Iowa, the Fountainhead of Chiropractic. Chiropractic history began in the Palmer family in 1895, so where better to learn the art, philosophy, and science of chiropractic than where it all began? While in clinic at Palmer, my interest in kids and pregnancy started as my wife and I were expecting our third child.
My experience adjusting my own kids sparked my passion for adjusting children. This led me to complete the 15-month pediatric course with the International Pediatric Chiropractic Association, leading to my Pediatric Certification from the Council of Chiropractic Pediatrics in the Academy of Chiropractic Family Practice.
To expand my offerings to patients, I also became certified in acupuncture, which requires 300 hours of coursework. At Logan College, I took 200 of the hours and I took 100 hours at Parker College.
EXPLORE OUR SERVICES
We Are a Chiropractic Family
My wife, Carrie, and I have been lucky enough to raise three sons, Brock, Caleb and Zac. It has been a joy to watch them grow into the young men they have become!
I wouldn't ask you to do something I don't do myself. I get adjusted every week. I also adjust my family, as well as my staff weekly. I exercise for 30 minutes, 3-5 days per week. My family and I do our best to eat healthy, buying organic whenever possible. Two of our three sons have never been on an antibiotic.
In addition, all of them have been checked for subluxations and have been adjusted since birth! Although this is how my family and I achieve our health needs, everyone's needs are different. We are always here to help you achieve your personal health goals, whatever they may be.
Take That First Step Today
Thanks for visiting our website. I look forward to meeting you in person and learning how we may be of service to you. Contact Nafziger Family Chiropractic so we can help you take your first step toward better health.

Dr. Randy Nafziger | (419) 445-1600