What to Expect at Nafziger Family Chiropractic
New patients often remark how "relaxing" our office is. Here at Nafziger Family Chiropractic we realize that convenience and comfort are important when researching chiropractors in Archbold, that's why it is our goal to offer state-of-the-art chiropractic care in a comfortable surrounding, and convenient location.

New Patient Forms
Please download, print, and complete these forms so you can bring them with you to your first visit:
Your First Visit
We make your first visit as easy as possible and on average takes about 45 minutes. You'll be greeted by name when you enter our chiropractic office and given a short tour to get you acquainted with our facilities. One of our staff members will explain your paperwork and allow you a few minutes to fill it out before you meet Dr. Nafziger. For your convenience you can also fill out your paperwork in the comfort of your own home and bring them in with you to your appointment, by downloading them from the right.
After you meet Dr. Randy, you will immediately see why he's different than most chiropractors in Archbold. He will talk with you about your health concerns and take a detailed history of your health issues to help determine if yours is a chiropractic case. We like to think that we are good listeners… and we always encourage you to ask lots of questions.
I left the office feeling hopeful that I can become pain free.

Everyone was very friendly.

Thank you for making me feel comfortable for my first chiropractor appointment! I was a little nervous on what to expect.

Great service and staff was very friendly.

I appreciate you being able to get me in the day after I called for an appointment!

I am very pleased with the overall treatment, service and experience I received at my first visit. Everyone was very friendly and professional. Thank you!

I have never been to a chiropractor in my 40+ years, and I am amazed in the difference I'm feeling after one visit! I'm hopeful that I will feel somewhat normal again.
Chiropractic Examination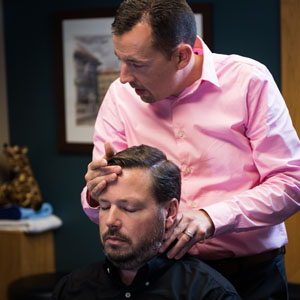 Next, you will have a complete exam that will include special tests. These tests help determine where your problem areas might be and how the doctor will address them. The tests may include:
static palpation - feeling the bones in your spine for tenderness, swelling and other abnormalities
motion palpation - bending your spine to look for signs of fixation
instrumentation - which involves running a nervoscope down your spine to locate areas of swelling. The nervoscope feels like two fingers gliding down your spine. It detects heat, which is an indication of swelling.
These tests, in addition to others, help the doctor determine if yours is a chiropractic case… and if he can help you.
X-rays (if needed)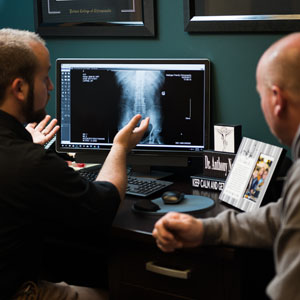 Then, if necessary, weight bearing (standing) x-rays will be taken. X-rays are taken for several reasons. These include:
To determine the condition of the discs (the cushions between the vertebrae in your spine)
To determine the phases of degeneration
To locate potential problem areas, misalignments
To rule out other pathologies (diseases)
To see is to know! Not to see is to guess. We do not want to guess when it comes to your health.
In most cases, Dr. Randy will perform an initial spinal adjustment after reviewing the x-rays.
Schedule an Appointment
Let Nafziger Family Chiropractic help you live your best life. Call the office today to schedule your appointment.
CONTACT US »
---
What To Expect | (419) 445-1600